Mobilitat News
2017-06-23 21:47:46
2017-06-23 20:32:00
Stops Mode is a way to show trips split into PU and DO entries instead of a combined trip view. To see stops view, click the Stops button at the top of your screen. You will see each stop split into 2 lines, one for the PU stop (with the icon for that trip next to the name, and one for the DO stop, with no icon next to the name.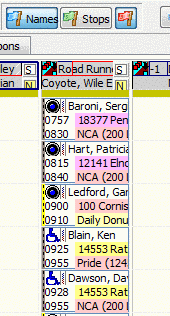 You can toggle stops view off by clicking the Stops button again. It may take some getting used to, be we feel the new view provides more information and can help when trying to schedule many trips onto a bus at once.
2017-06-21 16:28:11
Did you know you can add calendar notes in Easy Rides and depending on the name of the note, you can prevent trips being booked on that day? This is especially nice on those No Service holidays because you won't get any trips booked for that day by mistake.
Here's how to set it up:
Open the ERUtility and go to the Tools menu then Calendar Notes.
In the editor, click the Plus button to add a row, set the date and name the note. You can rename an existing note or change the date to next year when the date is passed. It's usually handy to add or update the whole year's notes at the beginning of the year.
If the name of the Note starts with "No Service" (without the quotes), it will prevent the date from being used when editing or creating a trip - It is case sensitive. After making your calendar notes restart Easy Rides if it is currently running.
If it's a No Service note then the trip form looks like the one below and the user cannot click the OK button while the No Service date is selected.
If the note is for information only, the trip can be booked on that day, but there is a calendar note icon (yellow exclamation) next to the day of the week above the date selector. If you hover your mouse over it, you can read the note. The one below is for information only, and trips can still be booked for that day.
2017-06-09 15:58:18
You are invited to a pizza party after the opening CTAA Expo reception. The CTAA reception will take place on Tuesday from 5-7 at the COBO Center. Please meet us at our booth (314/316) at 6:45 and we will coordinate transportation to Pizza Papalis (in Greek Town at 553 Monroe St, Detroit, Michigan). You can look at their menu at :
http://pizzapapalis.com/menu
If Pizza is not your favorite, you and I can order salads and sandwiches. Please let us know if you will be able to join us by simply email Adriana at
adriana.irving@mobilitat.com
2017-06-08 15:53:00
As we're testing now for the latest release of Easy Rides, I thought I should take a moment and tell you about some of the recently added new features as well as some the Development Team is working on for future releases.
Mapping
The team has been very busy enhancing features and capability of the Google Maps integration. Release 16 will include new functions on all of the map windows that allow you to see other related information. For instance, if you show a trip on a map you can use a drop down list to add AVL data to see where your vehicles are in relation to the trip you're showing.
Likewise, if you're in the AVL map you'll be able to show an address on it.
Performance Monitoring
We've already added Completion Boxes that show the status on Odometer, Arrive Time and Depart Time for each stop on a trip ticket. If the box is white, the data is missing. If it's yellow, that indicates a warning - possibly that the odometer is suspect or if the stop times are not as scheduled but are still inside the window for the stop. If red, then the stop is out of window (late or early).
There is also an On Time Performance monitoring tool that is toggled by clicking on the stripe just under the route columns. This shows two rows: The top row is the scheduled On Time Performance and the bottom row is actual On Time Performance.
There are more features coming as well. Contact us with any questions you might have!
2017-06-07 22:12:54
Sometimes you need to see the history of a route, vehicle or driver on a map. This is useful when researching a complaint or an incident, or to check on a driver's actual driving path to see if it's consistent with what you expected.
We're working on a really great AVL history tool for Easy Rides. In the meantime, you can learn how to do it using your Google account on our help site. The link for this topic is here:
http://help.mobilitat.com/how-to-map-avl-history
2016-11-07 23:29:49
We've all just returned from our 2016 User Conference in Columbus, OH. We had a blast spending time with many of our customers. We hope that next time we can see even more of you there!
2016-10-27 02:09:06
Congratulations to Rebecca Carey from Cheyenne, WY, winner of our drawing at the PACE conference in San Francisco this week.
2016-10-27 02:07:38
Congratulations to Gary Taft of Minnesota DoT and Ryan Clout of St Cloud Metropolitan Transit Commission, winners of our drawing at the Minnesota Public Transit Expo
And a special thanks to Mary Plenge for helping out at our booth!
2016-08-15 21:24:34
Syncromatics today announced its acquisition of Mobilitat, whose Easy Rides dispatch and scheduling software enables demand responsive public transportation. Easy Rides will join Syncromatics' existing portfolio of fixed route technologies offering comprehensive solutions for public transportation operators. More details can be found
here.